Long Term Care Facts and Consumer Guide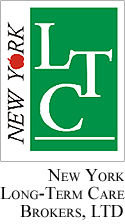 We have worked hard to satisfy and service many of your insurance needs and will continue to do so. We appreciate your business. In an ongoing effort to provide our clients with additional services, and due to rising concerns about extended care and the devastating financial and emotional impacts of a long-term care event, we have partnered with New York Long-Term Care Brokers, LTD, to assist in your long-term care planning.
New York Long-Term Care Brokers, LTD is a nationally recognized leader in the individual and business long-term care industry. Click below for some facts about Long-Term Care.
Long-Term Care Facts

What is long-term care?
Long - term care is the day-in, day-out assistance, or extended care, you need due to a serious illness, disability or simply aging, that lasts for a period of time and you are not able to take care of yourself. It is also care provided when you are cognitively impaired, due To Alzheimer's Disease, Senility, or even Mental And Nervous disorders.

Long term care refers to a wide range of services delivered in your own home, adult day care centers, assisted living facilities, continuing care communities and in nursing homes. The level of care may be skilled or intermediate, but most frequently it is custodial care in nature. The need for custodial care may be the result of an injury, illness, chronic condition or the frailty of aging where a person requires assistance with activities of daily living (ADL) such as bathing, dressing, feeding, transferring, toileting, or continence.
What are the chances that you will need long - term care?
70% of people over age 65 will require some form of long - term care at some point in their lives. At age 75 the probability is greater. Of those in nursing homes, 45% are under age 65. The older you are, the greater the probability that some form of long - term care will be required.
How much does long - term care cost?
The current national annual average cost for a private room in a nursing home is $76,000 (and increasing each year) and can be much higher in certain areas of the country. Home health aide costs range from $19 to $38 per hour. Home health care can amount to over $40,000 per year or more.

What does my Private Health Insurance, Medicare and Medcaid pay?
Private Health Insurance is designed to pay for preventative and rehabilitative care, NOT Long-Term Care. Medicare pays only for skilled care, under specific conditions and on a limited basis for up to 100 days. Medicaid pays only after you have spent down your income and assets to the poverty level ... and ... even then your options are limited.

How does the risk of requiring long - term care compare to other risks I face and have insured for?
1 in 1200 - the chance of a $100,000 loss from a fire or accident in your home
1 in 240 - the probability of a $100,000 or greater liability suit arising from an automobile accident
1 in 15 - the chance you will encounter major medical health care expenses of $100,000 or more
What is the Partnership for Long - Term Care?
The Deficit Reduction Act of 2005 opened the door for many states to implement their own Partnership for Long - Term Care, beyond the original states of NY, CT, CA and IN. The Partnership program is designed to assist the residents in planning for the cost of long - term care. Partnership long - term care insurance policies contain unique features. Under the State Partnership for Long - Term Care Plan, many people will be able to afford their own care, without the need for impoverishment and dependency on Medicaid. The goal of the Partnership is financial independence for consumers through shared responsibility. This means that the State will share with you in planning for LTC expenses. You can meet your responsibility by purchasing a Partnership LTC insurance policy and keeping it in effect. The State will do its share by protecting you against the costs of extended-care situations through its Medicaid program without regard to your assets...they will be protected.

What are the tax advantages to owning a Long-Term Care Policy?
There are State income tax deductions available and Federal tax credits for individuals. Tax advantages for business owners may be more favorable and discounts may be available.

Long-term care planning is a family affair.
The devastating emotional and financial impact of a long-term care event is typically felt by the whole family, immediate and extended. We protect our family in our working years with Life Insurance...why shouldn't we protect our family in our retirement years with Long-Term Care Insurance?

As an adult child you may be in the "sandwich generation"... while in your productive earning years, you want to save for retirement, yet you may still have children to put through college . How will you cope if you're also called on to help a parent with a health problem requiring long-term or extended care? You'd want to help, of course, but the cost, emotionally and financially could be high.

Fortunately, there is something you can do now to help protect one or both of your parent's lifestyle in the future. Ask them what their plan is if they need such care. If they say they don't have one...they do...it's called Medicaid – spend down their assets and lose care giving options. If that's their plan, we may be able to help replace it. Perhaps consider buying long term care insurance for them with the help of siblings or other family members. A long-term care policy does not replace the family, it gives a support system allowing you to take care of them better and longer.
Consumer's Guide
Click here for your FREE Consumer's Guide download (PDF, 2.3 MB) - Strategies to Lower the Cost of Long-Term Care Insurance